At Venue Cymru on Saturday 29th July at 7.30pm …
At a time when prisons are in the news due to increasing violence, drug taking and low morale, it has never been more important to focus on education and rehabilitation.
Chess makes a difference because it is a fantastic metaphor for life. We must think before making our move, and accept that our decisions have consequences. It also teaches us to learn from our mistakes and to develop a more disciplined approach to problem solving. Perhaps most importantly of all, it is a constructive use of time and helps to forge friendships.
Chess Behind Bars offers a guide to chess in prisons that will instruct and entertain regardless of your situation. It covers almost every aspect of chess imaginable – from the rules to chess history, from puzzles to famous games, and even some tips for improvement. It is a smorgasbord of chess, seen from an unusual angle and of interest to everyone.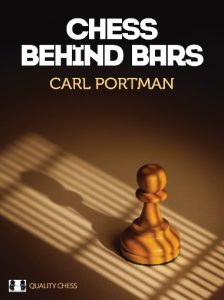 Chess can and does change lives, and Carl Portman believes that everyone should have the opportunity to learn the game. After all, the prison community knows that there is a dream behind every door.
Carl Portman is the English Chess Federation's Manager of Chess in Prisons, former Shropshire County Champion and an ECF County Master. He has represented the UK at two NATO Chess Championships. In 2015, he was awarded the ECF President's award for services to chess.
'Chess can transform lives for the better. It is not in the least bit glamourous to devote so many hours of time to helping those who have fallen foul of the law. Carl is a great guy, with an infectious, optimistic spirit. He also loves the game – one which teaches men and women to be responsible for their own actions. I do hope that this book finds a much wider audience than just the chess community. It certainly deserves to' — Grandmaster Nigel Short MBE